and the Gramophone "Artist of the Year 2017" is..........
September 13, 2017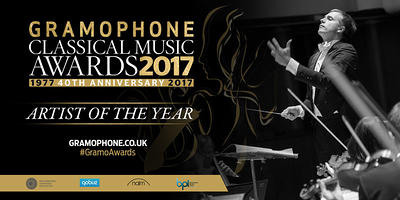 VASILY PETRENKO!! Gramophone Classical Music Magazine "Artist of the Year" 2017!!
At a glittering gathering of the classical music world in London this evening Vasily was named Artist of the Year after receiving more than 8,000 votes from readers of the magazine and other social media outlets.
Maestro Petrenko was up against a formidable field of competition from world-class artists including:
Pianists Jean-Efflam Bavouzet, Imogen Cooper & Lars Vogt; violinists Lisa Batiashvili & Isabelle Faust; vocalists Carolyn Sampson & Matthias Goerne; cellist Sol Gabetta and harsichord player Mahan Esfahani.
He had a less than trouble-free day flying in from rehearsals in Moscow to receive the award. His original British Airways flight was cancelled and then their second option was delayed so in the end he had to fly to Hamburg with Aeroflot and catch another flight from there to the UK but he made it and we hope he can enjoy this evening's celebrations before having to jet back to Moscow first thing in the morning!
You can watch the award ceremony for the next 90 days by using the link below.